Architecture Overview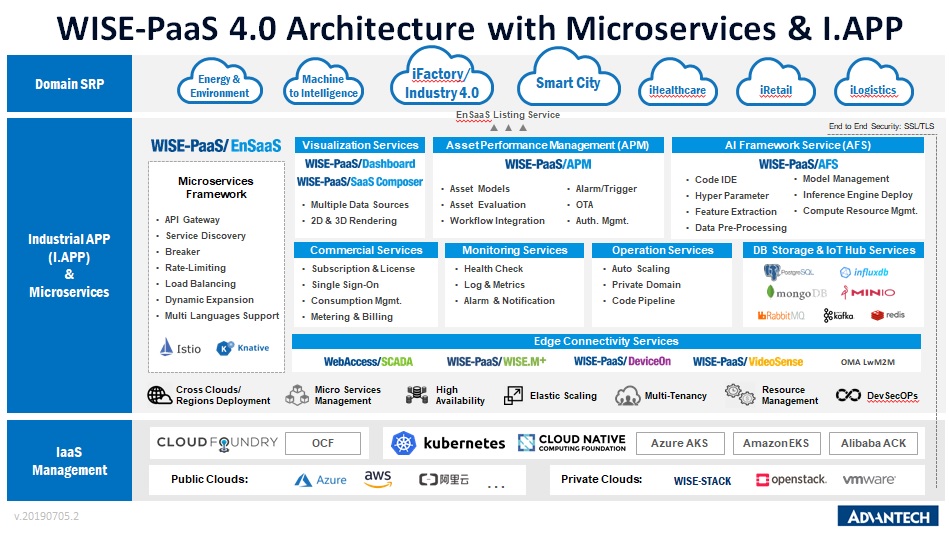 WISE-PaaS IIoT Cloud Platform, (hereafter the "WISE-PaaS Cloud Platform" or the "Cloud Platform") is an integrated IoT service platform designed to provide an operational insight from the edge to the cloud. It allows you to easily and securely connect, manage and collect massive IoT data, as well as process and analyze/visualize data in real time. Through a comprehensive set of development tool kit, the WISE-PaaS Cloud Platform simplifies the deployment of IoT solutions, allowing you to dedicate resources to your area of expertise.
Device Connectivity
WISE-PaaS Edge Intelligence Layer is a comprehensive set of management services that enable secure and reliable two-way communication between cloud-based IoT Hubs, edge gateways, and IoT sensing devices.
Device Management
The WISE-PaaS Cloud Platform provides a set of features and applications for device-side and back-end developers to develop robust and reliable device management solutions. By using the dashboards and applications built to the Cloud Platform, developers can easily manage, browse, configure, monitor, and detect the managed IoT devices.
Cloud Platform
The WISE-PaaS Cloud Platform is a highly innovative IIoT cloud platform designed and optimized for factories, logistics, environmental protection, energy, retail and medical industries. It synergizes platform as a service (PaaS) scalable infrastructure as a service (IaaS). It provides a host of industrial Internet cloud services that developers can easily integrate to build applications for various businesses in different industrial contexts.
Industrial application and Microservices
The WISE-PaaS Cloud Platform provides a set of industrial services based on the microservice architecture for developers to build, test, and run IIoT applications.
The Cloud Platform also comes with visualization tools, through which developers can visually develop the real-time and historical data of the devices connected to the platform. One of such tools enables data flow control, expediting the visual development of various business logics.
Solution Ready Packages (SRPs)
The WISE-PaaS Cloud Platform uses pre-configured and integrated IoT solutions with Cloud and Edge ready packages, so called Solution Ready Packages (SRPs) to provide cloud, security, and WISE-PaaS IoT services for specific domains.
The IIoT solution must involve collecting the data of various standard on-site industrial devices, edge computing, and wireless communication device management, performing data fusion and visualization on a cloud platform, establishing artificial intelligence (AI) models based on industry expert knowledge. The solution must also meet the laws of the countries or territories where it is adopted, or the principles of data storage location management under corporate policy, and entail establishing a rigorous platform and a trustworthy asset security mechanism and combining the know-how of experts from a variety of disciplines to develop a "co-creation model". Such model has proven to create mutual benefits and win-wins for Advantech and our partners.
To meet the diverse criteria for what constitutes an IIoT solution, Advantech has exploited data-driven cloud service technology as a framework to develop the WISE-PaaS Cloud Platform, which supports multiple cloud infrastructures (AliYun,Amazon Web Services, Azure, Google Cloud Platform, and OpenStack on private solution), features flexible scalability, multi-tenancy, and high reliability, and provides diverse database services, a framework for AI model training and deployment, a visual management dashboard, and a multi-level asset security management service.
Advantech and its partners have used WISE-PaaS to develop all kinds of IIoT industry solutions. Through an innovative industrial cloud service business model, they have embarked on a third digital revolution.