Siemens temperature transmitters SITRANS T covers head, rail and field transmitters. They support all common RTDs, thermocouples, resistance and millivolt-sensors and specific sensors to match all applications.
Sensors, transmitters and accessories for direct or the non-contacting measurement of temperatures using different measuring methods:
o Temperature sensors
with optional transmitter
Resistance thermometer
Thermocouples
o Transmitters for temperature
o Fibre-optic multipoint transmitter
o Radiation pyrometers for contact-free measurement of temperature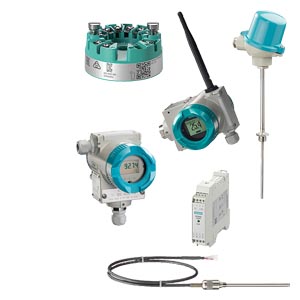 SITRANS TS temperature sensors :
The temperature sensors of the SITRANS TS product family are used for measuring temperatures in industrial plants.
Siemens offers the following temperature sensors:
General use
Compact design with connection cable
General use
Compact design with plug/wire ends
Use in food, pharmaceuticals and biotechnology
Modular or clamp-on design
General use
Modular design with connection head and protective tube
Straight versions up to 1250 °C